Nobody reads anymore.
At least that's what Steve Jobs said back in 2008. He said, "Forty percent of the people in the U.S. read one book or less last year… people don't read anymore."
Problem is, we Christians know we should be reading our Bibles. But in our 2013 status update "Facebook / Pinterest / Instagram / blah blah" world that we live in, we'd rather get a root canal than actually read a book. So we don't do it.
Is there a hack for this? You bet.
Listen to the Bible.
If done right, this hack is guaranteed to get you, your spouse, and your kids hungry for the Word of God.*
Step #1. Get a smart phone.
We apologize for calling your old phone dumb. But if you want to take advantage of this hack, you're going to need to ditch that dumb phone and get a smart one that can connect to either the Apple App Store or the Android App Store. We recommend the iPhone so you can take advantage of other hacks.
Step #2. Install the free Bible App.
Seems like there's millions of Bible apps. We'll make it easy for you… pick the one from LifeChurch. To make it even easier, click on one of these links from your phone:
Step #3. Know the ways you can listen, and pick one.
Here's the part that will get your geek juices flowing. It'll also show you just how smart that phone of yours actually is.
Listen with the stuff that came with your phone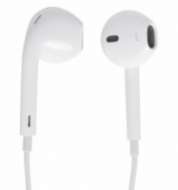 The first way you can listen to Jesus is through your iPhone's external speaker (duh). But seriously, actually try it. It doesn't sound bad at all. Of course, if you don't want to annoy or freak out the people around you, you can also listen through your ear buds, or the new EarPods which ship with iPhone 5. But since wires bother me, I prefer the next options.
Wireless speakers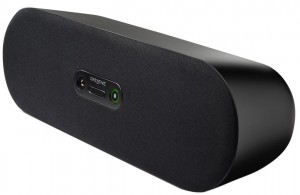 You can beam the Bible through the air to wireless speakers sitting on a shelf across the room (this is called a Bluetooth connection for all you 8-track folks and it has nothing to do with the color of somebody's tooth). I recommend the Creative D80 for $36. That's $36 people. I've got 2 at home, one in my bathroom for listening in the shower and while getting ready, and one in the kitchen for listening while eating breakfast. Now before you think I'm a weirdo for doing this, just keep reading. It's all part of the plan.
Your car stereo
Check to see if your car supports A2DP playback. If so, you've scored. Everybody knows Bluetooth is the way to send/receive telephone calls in your car. But your car also supports A2DP, you can also listen to any kind of audio from your phone, like the Bible. The best part is that it automatically connects whenever you start you car; all you have to do is press play in the Bible app. If your car doesn't support A2DP, there are other ways to pump the Word of God through your stereo. See if it has an audio input jack that supports this type of connection. Or if it has a tape player, you can use a car audio cassette adapter. If all else fails, you can go with the next option.

Above: Apparently, this ad from JawBone suggests you could turn into a vampire while using their product. So be careful.
Bluetooth earpiece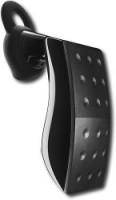 One of my favorite ways to connect is through a Bluetooth earpiece. I'd recommend any of the Jawbone earpieces. These bad boys are mindblowingly useful for not only listening to the Bible, but listening to audio books, taking classes, and listening to Bible teaching. Oh yeah, and for phone calls too. And you don't have to keep this in your ear like vampire boy above. Just keep it in your pocket and use as needed. Just be super careful not to send it through the laundry.
Step #4. Decide where to start.
Where in the Bible should you start? Are you a first-timer? Resist the temptation to start in Genesis and go through every book. You'll enjoy Genesis, parts of Exodus, but fall flat on your face somewhere around Deuteronomy.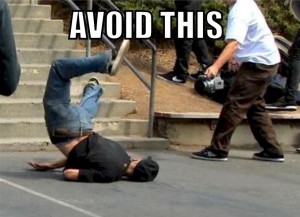 Eventually you'll be able to get incredible stuff from Deuteronomy (Romans 15:4; 2 Tim. 3:16-17). But you'll need to get a good understanding of the New Testament first (Hebrews 2:1; Hebrews 1:1-2).
I'd recommend starting in John first (the 4th book in the New Testament). Once John is finished, continue with the next book (Acts). And keep going in order until you reach the end of the New Testament (Revelation). Then listen to the first 3 New Testament books you skipped (Matthew, Mark, Luke). Now you're ready to hit up Genesis and the Old Testament.
Also, try to go through entire books. Don't bounce around. Bible study is so much better when you get the entire context of each letter and book.
Step #5. Plan for more frequent, smaller meals.
Have a game plan and set realistic goals. If you promise the Lord you're going to listen to 5 hours of the Bible a day, you need a mental checkup. That simply won't last.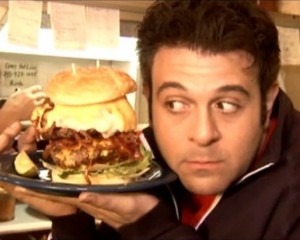 Instead, think about how you eat. Unless you're a snake, you don't eat just one large meal a day, but at least 3 or 4 smaller meals with some snacks in between. Everybody says it's healthier this way.
Do the same thing with your Bible study. Plan for smaller, more frequent "meals". Listen in the shower, while getting ready for the day, while eating breakfast or driving to/from work. You can listen on a break at work, right before falling asleep at night, or right after waking up in the morning.
This step is what makes this hack work. By listening 5-10 minutes throughout the day, you stay hungry for the Word of God. And you also find that your mind is set on things above (Colossians 3:2), and that you find yourself naturally walking in the Spirit (Galatians 5:16) and not gratifying the promptings of the flesh.
Step #6. How to listen through the Bible app.
There are many different audio bibles inside the app. The Max McClean NIV version has the best audio so that's the one I'll be showing you how to play here.
1) Open the app and select NIV at the top right: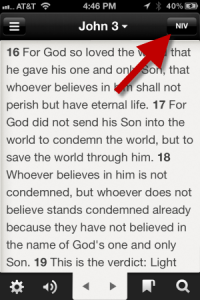 2) Click the speaker on the bottom left: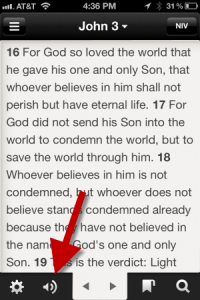 3) Touch the green play button to start listening: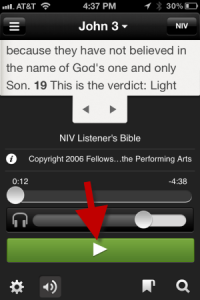 That's it! You're now listening to the most amazing audio Bible app for free.
* Footnote for any haters out there who think what we just said is of the devil: Listening to the Bible shouldn't completely replace actually reading the Bible. Unless you are blind or cannot read. Every Christian should still own a print or software based study Bible and know how to use it. You'll need one to bring to church, one to take notes in, one that you can use to look up words in the original language, one to use when talking to those Jehovah's Witnesses, etc. But listening to the Bible as described above is a proven method to grow in one's personal devotion. And it's Biblical. Romans 10:17: "Faith comes by hearing, and hearing by the Word of God."
Say thanks by liking/sharing: