Today, January 6, 2014, will be the most miserable day of the year according to some researchers.
It's called "Blue Monday" and today people all over the country were:
Loathing their first day back to work or school
Worried about money spent over the holidays
Affected by bad weather
Regretting failed resolutions from previous year
Millions are returning to work after time off for the holidays and they're facing the facts–the big price tag that came with all the gifts… Others are worried about weather, or relationship trouble, or their New Year's resolutions.
If that's not bad enough, today has also been dubbed "Divorce Monday" by lawyers because it's the most popular day to start divorce proceedings.
People aren't just ready to quit their marriages, but their jobs, also, with 80% of workers actively looking for new employment on this day.
Oddly enough, researchers say the happiest days of the year are Christmas Eve, Christmas Day, New Year's Day. The happiest days come a few days before the most miserable!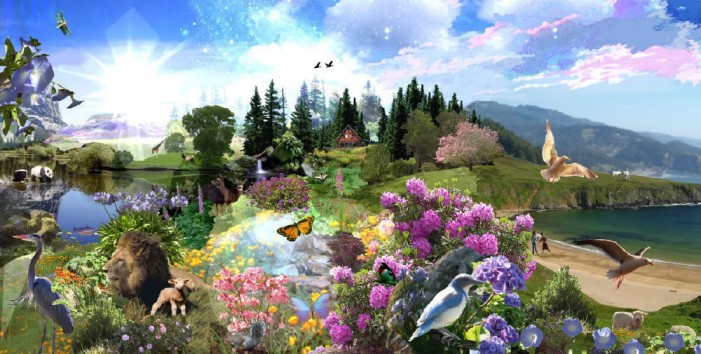 The Bible (which can be proven to be true) says that one day, earth will be restored to paradise conditions (Revelation 21). Imagine what it would feel like to be there! In Christ, you can!
Feeling blue today?
The Bible says it's impossible to find true satisfaction in the things of the world. Those who look to worldly things will only "thirst" again. Jesus said,
"Whoever drinks of this (physical) water will thirst again, but whoever drinks of the water that I shall give him will never thirst. But the water that I shall give him will become in him a fountain of water springing up into everlasting life." (John 4:13-14)
Before we were born-again, the Bible says we "conducted ourselves in the lusts of our flesh, fulfilling the desires of the flesh and of the mind" (Ephesians 2:3). But when we received Jesus Christ as our Savior and Lord, God "made us alive together with Christ" (Ephesians 2:5).
The Holy Spirit took permanent residence in our hearts (Ephesians 1:13; Romans 8:9). And we could begin experiencing supernatural "joy, peace, longsuffering, kindness, goodness, faithfulness, gentleness, self-control" (Galatians 5:22-23).
If you've never experienced this supernatural joy and peace, you can through a relationship with Jesus Christ. Click here for how.
Say thanks by liking/sharing: