We've launched our first gospel outreach today through popular social media network Instagram.
This outreach helps us fulfill our vision of creatively using technology to bring the Gospel to a distracted world.

About the outreach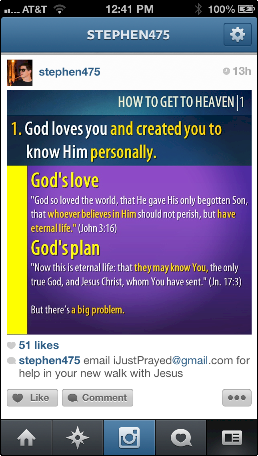 At the moment we are able to get the Gospel out to 240,000 people per month. That's 240,000 people per month who are on Instagram, who don't go to church, and probably aren't looking for Jesus. We want to bring Jesus to them.
As exciting as that is, we believe we can get that to 1,000,000 per month. We won't divulge the secret on how we are able to do this (something to do with being geeks). But we recognize that Instagram may close the hole soon… so the window of opportunity on this might not be open forever.
How are we doing this?
We've put the Gospel onto 9 images. We've ordered them in a way that the people who find them can go through them one-by-one. To see it for yourself, click here: http://web.stagram.com/n/stephen475/
We walk the person through the Gospel message. And then at the end we provide an email address where they can email us if they want direction in their new walk.
The neat thing is that we can already see that people are actually reading the tract, going through each page one at a time. We can then pray for them that the Lord would open their eyes to what they're reading.
How you can help
Pray that God would touch the hearts of the people seeing these ads. Pray that it would catch their eye, that they would not just like the photo, but read through each slide. Pray for salvation, that they would email for help, and that Instagram wouldn't notice what we're doing–that we would be able to continue to do it for many more months to come.
Our vision
To help others grow closer to Jesus through technology,
And to share Jesus to a distracted world.
For more info about who we are visit our About page here.
Say thanks by liking/sharing: