(Please note: this article is not intended to condemn Jeff Hanneman, Jeff's widow, or the surviving members of Slayer. It is written in a spirit of humility. It is certainly possible for somebody like Jeff to receive Jesus Christ on their deathbed. I am unaware, however, that any such event had taken place. As Christians, we are commanded to share the truth about what happens to those who willfully reject Jesus Christ. It is in recognition that we are all sinners in need of divine grace that this article is being shared. And it is my hope that while much of the world says, "Rest in peace," by presenting this article a few may become aware that there can only be peace through faith in Jesus Christ [Romans 5:1]).
Update 5/21/2013–I continue to receive negative feedback from both Slayer fans and the Christian community regarding this article. I want to mention that Slayer was one of my favorite bands in my BC ("Before Christ") days. I even went to a concert in Irvine back in '89. I had to stop listening to their music out of conviction (very Satanic you have to admit… even if they didn't believe it and it was all a show as some assert… for me it certainly did not set my mind on things above Col. 3:2). For a time, I listened to Christian metal (not judging genres of music).  The point of this article is that my heart breaks for people like Jeff who openly embraced hell (or who laughed it off) and who are now there… with no way out. I knew this article would stir the pot. But it was actually written out of love for the unsaved. I was hoping to turn a tragic situation (the death of Jeff) into something positive (salvation). I know some people might find it hard to believe… but that was the only motivation behind it.
Yesterday, May 2, 2013 at 11 AM PST, Jeff Hanneman's spirit separated from his physical body and entered hell.  Jeff Hanneman was lead guitarist and a founding member of the popular and openly satanic band Slayer.
What is astonishing is that Hanneman was fully aware that hell is a real place of unceasing torment, and yet still refused to receive the free gift of salvation freely available in the finished work of Jesus Christ on the cross.
Listen to the words of Altar of Sacrifice from Slayer's popular 1986 Reign In Blood album:
"Enter to the realm of Satan!
Blood turning black, the change has begun
Feeling the hatred of all damned in Hell
Flesh starts to burn, twist and deform
Eyes dripping blood realization of death
Transforming of five toes to two
Learn the sacred words of praise, hail Satan"
Mind-boggling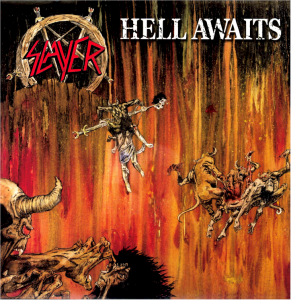 It is mind-boggling to think that a person would willingly embrace a future of unspeakable torment. One can only imagine what he is now thinking in hell, as he realizes there is nothing he can do to end the horrible amount of suffering he is now experiencing.  To think of the sheer horror that is upon him, as he is now realizing that his punishment will be forever.
The Bible clearly and explicitly teaches that hell is a real place to which the wicked/unbelieving are sent after death. We have all sinned against God (Romans 3:23). The just punishment for that sin is death (Romans 6:23).
Ultimately, all of our sin is against God (Psalm 51:4). And since God is an infinite and eternal Being, the punishment for sin, which is death, must also be infinite and eternal.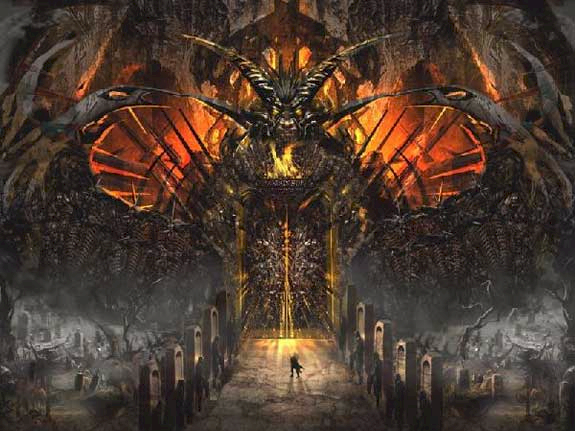 The punishment of the wicked in hell is described throughout Scripture as "eternal fire" (Matthew 25:41), "unquenchable fire" (Matthew 3:12), "shame and everlasting contempt" (Daniel 12:2), a place where "the fire is not quenched" (Mark 9:44-49), a place of "torment" and "fire" (Luke 16:23-24), "everlasting destruction" (2 Thessalonians 1:9), a place where "the smoke of torment rises forever and ever" (Revelation 14:10-11), and a "lake of burning sulfur" where the wicked are "tormented day and night forever and ever" (Revelation 20:10).
This is precisely why God the Father sent His son Jesus Christ to this earth 2,000 years ago–to die upon the cross for our sins.  The Bible promises that those who receive Jesus Christ as Savior and Lord will escape this eternal separation from God (John 3:16, 18, 36).
Don't think hell is that bad? Listen to this.
There is no sermon that describes the sheer horrors of hell better than Sinners in the Hand of an Angry God.  It is the most famous sermon preached on American soil. Even those who absorb graphic imagery and language on a regular basis to the point of being numb to it are stricken with terror when they hear Edward's stunning metaphor on the wrath of God.
Click to listen:
Sinners in the Hand of an Angry God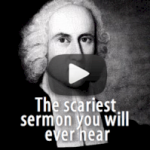 Note: portions of this article were taken from GotQuestions.
Say thanks by liking/sharing: