Logos Bible Software Review
DESKTOP SOFTWARE
Here's a quick look at what I think is the best Bible study software for your desktop and notebook computer.

LOGOS BIBLE SOFTWARE
In my opinion, any serious Bible student should consider purchasing this product.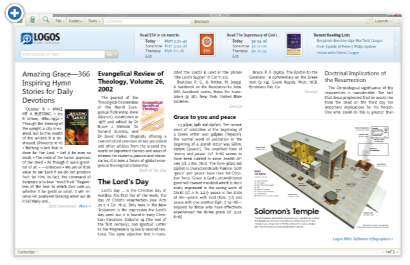 While some professional editions can run upwards of $1500, they also offer many lower priced versions for lay pastors and ministry leaders. These cheaper editions run anywhere from $250 to $500. When priced against the amount you would pay to actually purchase the same number of books in print form, there's simply no comparison. For example, the $500 Bronze edition gets you $8000 worth of print books.
What makes Logos exceptional is that the product is mature (in its 5th major release) and contains more content and tools than you will find in any other product. Logos holds electronic rights to nearly 20,000 titles related to the Bible from over 100 publishers. Watch this video for a quick rundown of its features.
Also, be sure to see how this pastor uses Logos to prepare his sermons.
Logos runs on on any platform, Windows and Mac. And there are mobile apps for the iPhone, iPad and Android devices, as well as an online Web app which gives you access to all of your unlocked content on the go. What this means is that you can literally have your entire library in your pocket.
I can't say enough great things about Logos. It's a solid product produced by a great company that continues to deliver feature-rich updates.
Visit www.logos.com for more info.
Tip: If you're adventurous and want to save money, you can purchase an older Logos or Libronix package on eBay and then download the latest client for free. What you really need to do is unlock the books with the license. It costs less to purchase an older product, and once you download the free, newer client, all of your purchased licenses transfer into the new version.