You've received Jesus as your personal Lord and Savior. That's awesome!
But now what?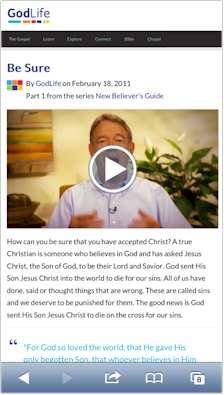 The New Believer's Guide by GodLife is a free online discipleship program designed to help you grow in your new walk with Jesus. You will discover how you can know God better and how to successfully live a life of faith and freedom.
There are a total of 30 lessons. Each covers a foundational Christian topic, and contains an insightful video followed by clear Bible study, and a time of reflection.
Go at your own speed. However, you might consider doing just one lesson per day over the course of a month, and allow time for each day's lesson to sink in.
Is this just for new believers?
No, it's open to anybody who desires a deeper walk, or people who want to be discipled but have never had the opportunity.
Ready to begin?
Be sure to begin each lesson with prayer, asking God to guide you. If at any time you have questions, a volunteer is able to help answer any questions through the GodLife website.
Returning students select your next lesson below.
Section 1: Knowing God
Section 2: Life in the Spirit
Section 3: Bible
Section 4: Community
Section 5: Prayer
Section 6: Sharing your Faith
Say thanks by liking/sharing: