Momma always said, "There's nothing good on TV!!"
Turns out, that's not 100% true. Tell her, "Momma, there's one good thing on my TV… my pastor!"
Here's how to transform your living room into a church satellite campus for your family so you can have church any time you want to.
Step #1. Get Apple TV*.
*This guide assumes you have an iPhone, iPod or iPad.  If so, you'll want to get Apple TV for $99, as that works best for Apple products. However, if you prefer Android/Google devices, Chromecast does essentially the same thing for $35.  See below for details.
Strangely, Apple TV looks nothing like a TV: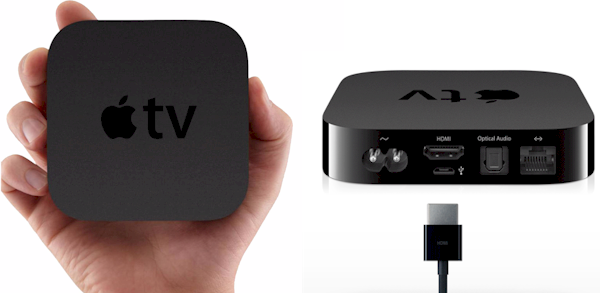 What you need to get it working:
An HD TV (720p or 1080p) with an HDMI input (preferably an unused HDMI input so you can just leave it plugged in at all times).
A spare HDMI cable.  Apple TV doesn't come with one. Don't spend more than $5 or you're a real sucker.
Internet.  Apple TV can connect to your home Wi-Fi wirelessly. But if you're still living in 2001, you can hard-wire it through a CAT5/LAN cable.
Step #2. One-time setup.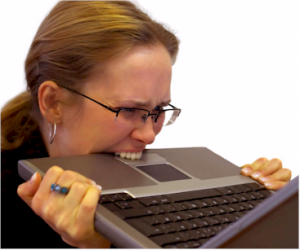 Either you love to fiddle with tech gadgets or you turn into a crazed monster nobody wants to be around.
Mostly-normal people should be able to set it up in 5-10 minutes without needing to look at the setup manual.
Connect Apple TV to your TV with your HDMI cable.
Plug it into a power outlet. This turns it on (there is no power button).
Follow the instructions on your TV screen using the Apple TV remote. (You MUST have the Apple TV remote to finish setup. If you bought it off eBay and got stiffed you can use this trick for getting any remote to work.)
Supply your Wi-Fi info when prompted.
That's it!
Tip: There is no power button; Apple TV is apparently designed to be left on 24/7. So just leave it running and that way your TV will always be ready to receive a beamed video.
Step #3. Find A Pastor You Like.
Here are links to video archives for some of my favorite pastors (if you're on your phone right now you can simply click on them and select a video):
Keep in mind that you can beam any video from your phone to your TV. If it plays on your phone, it can be sent to your TV. They can be videos from your church website, Podcasts, Youtube, Vimeo… anything. Ask your church if they post video sermons online. More and more churches are creating nifty apps for this.
Step #4. Get Somebody To Watch With You.
Get your spouse and your kids and tell them you're going to do something different.
Instead of watching endless hours of mind numbing rubbish on that 60″ plasma, tell them, "We're going to feed our spirit for a change."

Above: Is this a familiar sight in your living room? Say goodbye to mush-brain once and for all!
The first time you do this you may get some eye-rolls, especially if you have tweaners. But parents, it's ok to take charge. In fact, it's encouraged. (Deut. 6:6-7; Eph. 6:4)
Step#5. How To Watch
So now it's show time. Here's how to play Jon Courson.
Open Safari on your phone and go to joncourson.com
Click on "Teachings":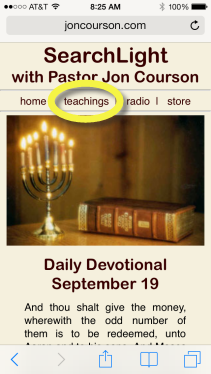 Click on "Thru-the-Bible Teachings" (I personally like going through Jon's teachings chapter by chapter):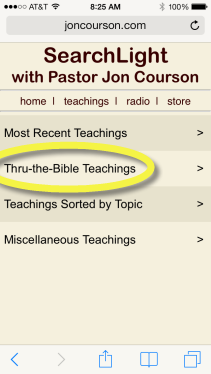 Select the book of the Bible you want to study (I'd recommend starting with Matthew):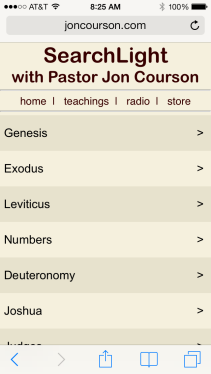 Select the chapter you want to watch: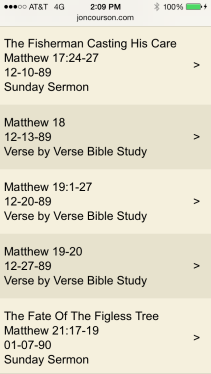 Click the "Play" button under Video: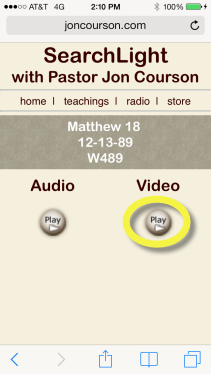 This will cause the video to play on your phone. But you should also see the little AirPlay button at the bottom.  Click that: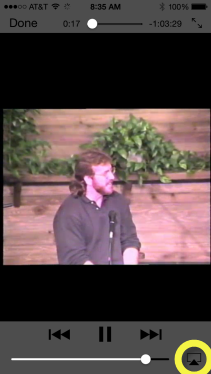 Then select "Apple TV" to send the video to your TV: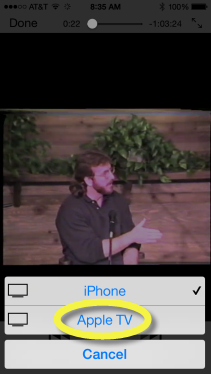 The video will play on your TV.
Your phone will look like this (notice that you can still control playback):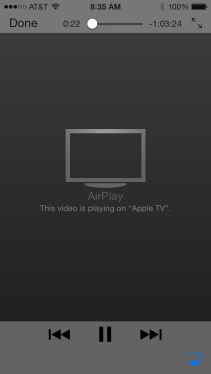 And your TV will look like this: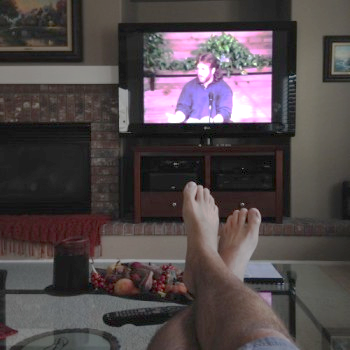 Note: Please excuse my hairy legs.
Troubleshooting
If you're having any issues, first check to make sure you see a Wi-Fi signal on your phone.  You must be connected to Wi-Fi for AirPlay to work. Here's what to look for: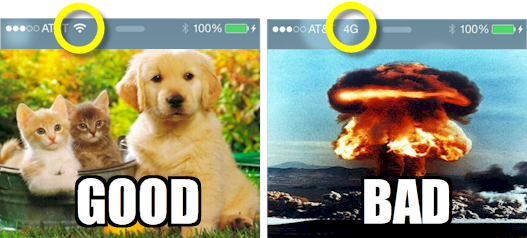 If you don't see the Wi-Fi (symbol on left) you need to connect. Most of the time you don't have to worry about Wi-Fi because your phone should automatically connect.
The second thing to check is whether your Apple TV is also connected to your Wi-Fi. As a last resort, you may just need to reboot your Apple TV by unplugging the power cable and plugging it back in.
What if I abhor Apple products?
Good news! You can pretty much do the same thing above with Google's new Chromecast device which costs $35: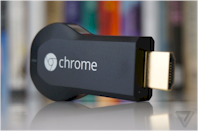 This little bad boy plugs right smack into any HDMI port on your TV. You power it by connecting a wire into a USB port on your TV (chances are if your TV has HDMI ports it also has a USB port). It looks like this: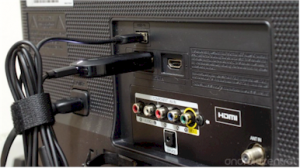 If your TV has both an HDMI port and a USB port then the entire thing just hangs on the back of your TV and you get a really weird euphoric feeling.
Otherwise, if you don't have a USB port, you will need to connect the wire to a good old fashioned power outlet with the power adapter they provide.
Once you have Chromecast setup, everything from Steps 3 – 5 are essentially the same, just on an Android device.
Say thanks by liking/sharing: