The average train locomotive weighs between 250,000 and 500,000 pounds, with the heaviest upwards of 1 million pounds. And that's not even counting the weight of the payload behind it.
Put that up against a minivan and what do you get?
(This is a large animated gif file. You might need to wait for it to load.)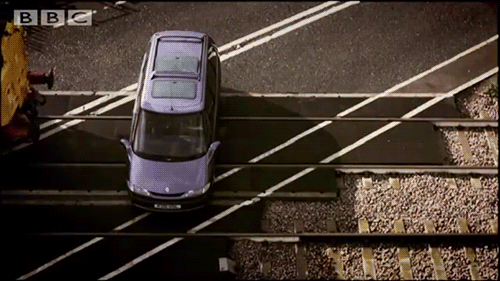 The point of the story (and the video I think) is don't cross paths with one of these bad boys.
Spiritual Battles Are Real
There's a story in the Old Testament where Syria was planning to go to war against Israel. But every time the king of Syria made plans, God revealed his plans to the prophet Elisha, and Elisha would just tell the king of Israel.
After realizing what was going on, the king of Syria surrounded Elisha one night to get him (2 Kings 6:8-13). When Elisha's servant woke up in the morning, he saw all troops and freaked out. At this Elisha said,
"Do not fear, for those who are with us are more than those who are with them." And Elisha prayed, and said, "LORD, I pray, open his eyes that he may see." Then the LORD opened the eyes of the young man, and he saw. And behold, the mountain was full of horses and chariots of fire all around Elisha. (2 Kings 6:16–17)
Many take this passage to mean that there's an unseen spiritual war taking place all around us, all the time.
There are more alarming statements in the Bible. Like the fact that Satan can target individuals personally, especially those who desire to live godly and do much for the Kingdom. Remember Satan asking to sift Peter like wheat (Luke 22:31) or when he named Job by name? (Job 1:8) And remember how the devil is said to be roaming the earthly realm, looking for people to devour like a lion? (1 Peter 5:8)
This can be overwhelming!
Protecting Ourselves From Being Blindsided
However, God has not left us without a defense. It's clear how we are to protect ourselves and our families from getting blindsided by a 500,000 pound spiritual attack:
Finally, my brethren, be strong in the Lord and in the power of His might. Put on the whole armor of God, that you may be able to stand against the wiles of the devil. For we do not wrestle against flesh and blood, but against principalities, against powers, against the rulers of the darkness of this age, against spiritual hosts of wickedness in the heavenly places.

Therefore take up the whole armor of God, that you may be able to withstand in the evil day, and having done all, to stand. Stand therefore, having girded your waist with truth, having put on the breastplate of righteousness, and having shod your feet with the preparation of the gospel of peace; above all, taking the shield of faith with which you will be able to quench all the fiery darts of the wicked one. And take the helmet of salvation, and the sword of the Spirit, which is the word of God; praying always with all prayer and supplication in the Spirit, being watchful to this end with all perseverance and supplication for all the saints. (Ephesians 6:10–18)
Say thanks by liking/sharing: