Audio Bibles
There are many great audio Bibles. Here we review the best free and paid versions.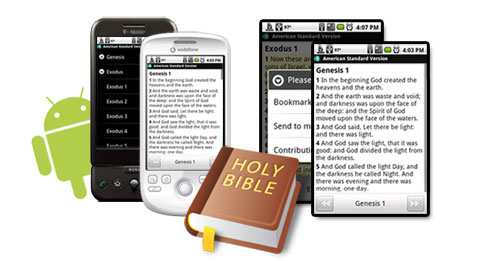 YOU-VERSION BIBLE APP
By far the quickest, easiest app available is the YouVersion Bible app available for just about any mobile device on the market. Click here for a walkthrough on how to get started. As mentioned in the guide, we recommend selecting the NIV version (either NIV or NIV84) which uses the Max McLean NIV Audio Bible. You can also listen through your computer if you prefer.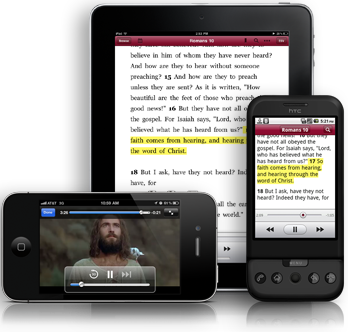 BIBLE.IS BIBLE APP
Another great (free) Bible app is the Bible.Is Bible app. They have an iPhone, iPad, Android, and online version. They offer dramatized and standard versions of the ESV, Contemporary English Bible, KJV, and New Revised Standard Bible for free. Click here to listen to a sample of the ESV dramatized.  You can even download up to 3 versions of the Bible in MP3 format, which you can then transfer to your mobile device for offline listening. There are other goodies too, like being able to watch Jesus Film clips as you study through the Gospels. Again, all free!

BIBLE GATEWAY APP
One new contender on the audio Bible app scene is the iPhone/iPad Bible Gateway app from www.biblegateway.com. Playing audio on this version is very easy. They have many exceptional readers. Max McLean reads the ESV, NIV and KJV. There are excellent dramatized versions of the NIV and KJV. This app has by far the most audio versions of any app to date, complete with 3 Spanish versions, all free. Their website says an Android version is coming soon.
Tip for listening online through your computer: Bible Gateway is well known for their online Bibles. If you select a version that supports audio (KJV, NASB, NIV, TNIV) you will see a little speaker button appear in the navigation bar:


Once you're on their website, click that play button to listen. Try it out here.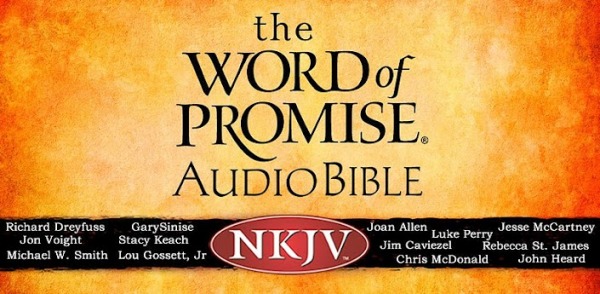 WORD OF PROMISE AUDIO BIBLE
This version of the NKJV is perhaps one of the best dramatized versions ever recorded. You can listen online for free. There is a mobile app for any device which lets you listen to the Gospel of John for free, but you have to pay $44 to unlock all of the other books. They also offer CD and MP3 discs for purchase. To get a feel for how engaging this version is listen to John 17 (read by Jim Caviezel who played Jesus in the Passion of the Christ) or listen to the sounds in Revelation 13 or Genesis 1.
Tip #1: You can listen online to any book for free.
Tip #2: They also offer a Word of Promise Next Generation version which is geared towards younger audiences. You can listen to a sample at the link.